Breast Augmentation with lift is a combination surgical treatment that not only enhances the size and shape of the breasts but also lifts the breasts to a higher more proportionate position. Natural changes to the body such as weight loss, pregnancy, and aging can change the shape and size of the breasts. The surgeons of Ponte Vedra Plastic Surgery offer breast augmentation with lift to help give the best cosmetic results possible. This surgical procedure uses silicone or saline implants to augment the size and shape of the breast to the desired look. The breasts are also elevated to a higher position for a more youthful appearance.
Crisalix Virtual Aesthetics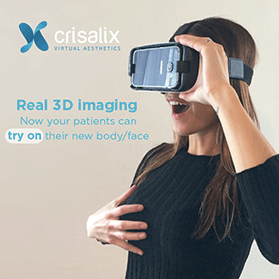 Ponte Vedra Plastic Surgery now offers Crisalix Virtual Aesthetics, allowing patients to try on their new breasts before the procedure! Patients are scanned into the software, where they can then choose between various sizes and even the different types of breast implants. By wearing the virtual reality headset, patients can see what they would look like from their own point of view.
During this procedure, the lift will occur first. This begins with the surgeon removing excess skin residing on and around the breast in order to reshape it. The underlying muscle and tissue will be pulled tight and lifted so that the breast sits in a higher position. In addition, the nipple is usually repositioned. For excessively large breasts, the colored part around the nipple (known as the areola) will need to be surgically reduced. The surgeon will remove the outer circle and reposition the skin.
Breast lifts are performed with varying incision patterns. Some common incision patterns include:
All the way around the areola
Circumareolar (around the areola) with an additional vertical incision (a vertical line that will travel down the breast to the natural fold below the breast)
Full circumareolar, vertical, and horizontal incision (referred to as an anchor or inverted "T")
Breast augmentation with a lift can usually be performed as a single surgery. However, some patients will choose to have this broken into two separate procedures. Some women are unsure of how large they want to go or how they will feel about the breasts' appearance after the lift has been accomplished. If it has been decided ahead of time that an implant will be placed during the lift procedure, it is usually positioned below the pectoralis muscle. This adds additional support to the breast and acts as an internal bra, which results in a longer-lasting outcome.
Breast augmentation with a lift is performed under general anesthesia in an accredited surgical facility. Because this is a combination surgery, the recovery time can last a bit longer than a lift or augmentation alone. Most patients are able to return to work within a few short days, but exercise and aerobic activities should be eliminated for at least 2-4 weeks. It will take a few months for the breasts to settle fully into their new position and assume a soft, natural look. Women who have lived with sagging, deflated breasts are thrilled with their new breast appearance.
Breast Aug With Lift FAQs
Will Implants Help Sagging?
Breast augmentation surgery will help with size, but will not lift a sagging breast. If there is moderate to severe sagging, women should be leery of any surgeon who recommends implants alone. Patients who are happy with the size of their breasts, but want to correct the sagging, will usually benefit with a breast lift procedure (without the placement of implants).
During your consultation, the incision placement will be discussed after your breasts have been thoroughly assessed. Women with smaller breasts will usually benefit from an incision that circles the areola only. Larger breasts, or those that have severe sagging, may need the anchor-shaped incision in order to garner the best results.
Breast lifts are designed to last a very long time. As long as you do not experience a huge weight gain or become pregnant, the results can last for years. The implants are surgically placed in a way that protects the breasts from sagging. Age and gravity are unavoidable elements that will create some natural sagging throughout the years.
Unlike breast augmentation alone where the incisions can be carefully hidden, it is hard to conceal the incisions that are made during the lift procedure. The number of scars and their location will depend on the surgeon's incision strategy. Every effort is made during surgery to minimize scarring. With proper scar care and an avoidance of sun exposure, the scars will fade and become thinner over time. Most women feel that the physical results following this surgery far outweigh the scarring left behind.
Reviews
"I am writing this article in praise of my Aesthetician, Chris Weber at PVPS. I recently had a small procedure done and was concerned about post surgery care and maintenance of my lid area of my eye which is very delicate. I have been going to Chris at PVPS for several years now and thoroughly have enjoyed her tips and especially the expert and thorough knowledge she expends through years of her attending the most advanced progressive symposia's and certifications in skincare. My skin always looks marvelous when I follow in her advice on skincare and many family and friends have now made PVPS their skincare meca of choice and Chris as their Aesthetician. No matter if I choose to use the skincare that she recommends after she utilizes on a facial for me or to first "test drive" the skincare products I always return to get those products because quite honestly my skin just looks and feels better! Again, I returned to Chris to follow up and heed her suggestions of what would help firm, moisturize and keep my delicate eye area looking tight and smooth. I have been following this regimen and gotten many compliments. I started out after having several different skincare specialists after moving to Jacksonville but have stayed with Chris simply because I love her amazing deep cleansing facial's and how I look and feel afterward. I expected the best at PVPS but certainly surprised that Chris has elevated my experience far beyond my own expectations, she is superior at her craft! Chris is the total package for indulgence, experience and complete relaxation!"
- L.W. /
Yelp /
Nov 17, 2015
"I am writing to praise Connie. She is hands-down the most gifted and knowledgeable injector around. I come to her with outrageous expectations and she always exceeds them aesthetically. Best thing about her work is her ability to keep me looking natural. I'm young and get a lot done for my age, but no one ever guesses I've had fillers/botox etc. She is wonderful to visit with each time I see her. Amazing."
- T.W. /
Google /
Jul 21, 2018
"Dr. Hickman and Dr. Sternburg are AWESOME!! As well as all the doctors and staff!! Highly recommend Ponte Vedra Plastic Surgery, professional, caring, exceptional care and impeccably clean!"
- J.A. /
Facebook /
Jul 19, 2018
"Can't say enough wonderful things about Dr Rumsey. I had a lower body lift in 2005 and outer thigh Lipo and inner medial thigh lift in 2018. They go above and beyond. HIGHLY recommend!"
- Anonymous /
RateMDs /
Jul 10, 2018
"Dr. Bret Snyder and his staff are wonderful. I did not make this decision lightly and did a lot of research before choosing a physician. Dr. Snyder is one of the best. He is masterful at his craft and very honest and direct about options and outcomes. In my opinion he is a true artist and cares very deeply about the best results for his patients. He holds himself to a very high standard and expects the same of his colleagues. My experience at Ponte Vedra Plastic Surgery was warm, professional, and my results far exceeded my expectations. If you chose this doctor, you will be in excellent, capable hands. In all sincerity, Dr. Snyder is fantastic plastic surgeon."
- C.G. /
Google /
Jun 28, 2018
Previous
Next
The cost for breast augmentation with a lift will vary. On average, the cost for this combined surgery will run between $7,500-$13,000. The fluctuation in cost accounts for the lift, as well as whether an implant was placed.